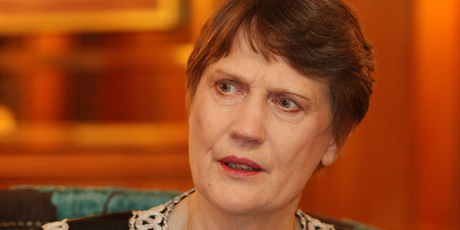 Former New Zealand Prime Minister Helen Clark attended Auckland Girls Grammar School
A New Zealand researcher suggests that the persistence of the gender pay gap may have something to do with co-ed schools, the New Zealand Herald reports. Professor Ananish Chaudhuri of Auckland University has looked into studies from around the world on this issue and says:
… recent research comparing the behaviour of women who went to single-sex versus mixed-sex schools has found that women from all-girl schools are as competitive as men, while those educated alongside boys are less so.
"This obviously has implications for the nature of schooling that we provide our children."
In a joint study between the Australian National University and Essex University in England the behaviour of 260 students of both sexes was compared when they entered a competition with a small financial reward.
Girls from single-sex schools and boys from both single-sex and co-ed schools were equally likely to behave competitively in the experiment.
Girls from co-ed schools were much less likely to participate, but the likelihood of girls participating rose after they were placed in single-sex groups.
New Zealand's most prominent woman, former Prime Minister Helen Clark, who is currently head of the UN Development Programme, attended an all-girls school, as did several of the country's female politicians and top businesswomen.
Professor Chaudhuri says that after allowing for all other factors in the gender wage gap -- such as education, age, labour market experience, discrimination, college grades and choice of education -- there is still an unexplained gap of up to a third, internationally.
The dampening effect of boys on girls' competitive spirit in a mixed school sounds a plausible contributor to that. Adolescent girls want to attract boys rather than scare them off with displays of the "girls can do anything" spirit.
Strangely, though, the common opinion among experts is that girls do better academically than boys in the co-ed environment. Perhaps it's all less distracting for the girls than the boys. In any case, the logical conclusion is that both sexes would be better off in single sex schools.
This article is published by
Carolyn Moynihan
and MercatorNet.com under a Creative Commons licence. You may republish it or translate it free of charge with attribution for non-commercial purposes following
these guidelines
. If you teach at a university we ask that your department make a donation. Commercial media must
contact us
for permission and fees. Some articles on this site are published under different terms.